Many people feel that they don't have control over the decisions and actions that affect their lives and the places they live in. This is a health issue, because a lack of control causes stress. So if you don't feel you have choices or influence in life, this can knock your self-confidence, motivation and self-esteem. That is especially true if you live in an area experiencing disadvantage where residents are even less likely to be listened to.
Having more power over the things that matter to us benefits both our physical and mental health. This is where community power comes in – residents coming together to make and influence change locally. This can be even more important if people don't feel they have a lot of power individually.
Working in and alongside your community to create and take control can improve your health in many ways. On an individual level, you get a greater sense of autonomy, confidence, trust and belonging, all of which bring improved wellbeing. On a local level, taking collective action builds greater community power – which makes it possible to tackle other issues in your neighbourhood that might be affecting your health such as housing or the local environment. On both levels, everyone grows skills, confidence and belief in their own voices.
This is similar to the way that improved social connections can improve your outlook on both a personal and community level. Community power and social connections go hand in hand. They are foundations of People's Health Trust's projects – both are crucial to better health and wellbeing. They also build the momentum to create further positive neighbourhood-wide change.
Stating the facts
98% of people involved in Active Communities projects agreed that their project involved people pulling together to do something positive in the local area.
92% of Active Communities participants agreed that the project they are involved with is helping to make the local area a better place to live.
83% of people involved in Local Conversations projects agreed that "When people in this area get involved in their community, they really can change the way that their area is run", compared with only 54% on average in England.
Real and lasting change happened when disabled people and unpaid carers got together to tackle barriers they face in their own communities. From organising safe and accessible activities to forming new organisations and campaigning for change, the journey local people have been on shows what is possible when people get together.
Julia Ajayi
Project Coordinator, Scope, Active Communities
Our work on community power and health
Community power – sometimes known as collective control – lies at the heart of our funding programmes. We support people to have power over the decisions that affect them locally – so residents can use their power to influence and affect change. Our evidence demonstrates that this works, and people involved are reporting an increased sense of control, both in their own lives, and collectively. We are also working with other decision-makers to ensure they recognise the value of communities having community power, and the mechanisms they can use to achieve this.
People's Health Trust is also a founding member of the We're Right Here campaign that is working towards a community power act to ensure communities are given the voice they need to make the changes they want locally.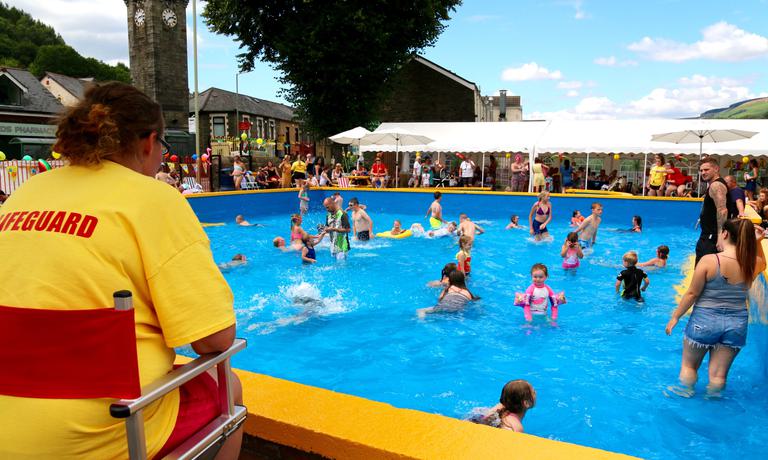 Lee Gardens Pool: Learning Together
This two-year project builds on the community's success keeping the children's pool open in the village of Penrhiwceiber, Rhondda Cynon Taf, by providing activities and training for local people in the new meeting space being built on the site.