Annual Review 2023
Our Annual Review for the year 2022/2023 is now available, with stories demonstrating the impact our funded projects are having in communities across Great Britain.
Since 2011, we have supported over 3,500 projects and reached more than 653,000 people across England, Scotland and Wales through £129 million of funding. This has been made possible by players of The Health Lottery.
What all these projects have in common is working towards our ultimate goal of improving the building blocks of health which include social connections, jobs and income, our homes and our environment.
John Hume, Chief Executive, and Jenny Edwards, Chair of Trustees said:
"The past twelve months have been challenging for many of us. The cost of living reached beyond the headlines and into our homes and families as costs rose rapidly. People living in disadvantaged communities experienced the impact of this on their health more than most and more than ever.
For the Trust, our main partnerships over the year have, as always, been with the people and communities we fund across England, Scotland and Wales. It has been so important at this critical time to be able to support them to tackle the injustices which lead to worsening health. The community initiatives to address social isolation, to support people into good work, to create stronger local connections, and to address food poverty and sustainability – all these help protect people's health and wellbeing."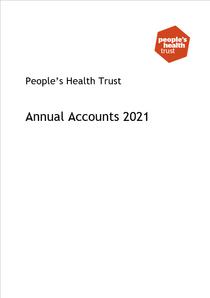 Download
Read our Trustee's report and annual accounts for financial year ending September 2022.
Download
For a printed copy of our annual accounts, please email us.