John Hume, Chief Executive, and Jenny Edwards, Chair of Trustees said:

"Over the last year our role has been two-fold – to ensure we get money out of the door to communities working so hard to sustain and improve health, and to continue to highlight the significant inequalities in health and length of life in England, Scotland and Wales.
We have supported hundreds of charities as they became the places of safety for thousands of people during Covid-19 and the ensuing mental health and cost of living crises. In line with our principles of Equity, Diversity and Inclusion, we have acted in an equitable way, ensuring that the money has gone directly to those whose health is most impacted. As this Annual Review will show, it has been a balance between giving grants to prevent health and wellbeing from getting worse and working to improve them.
Our funding focusses on the building blocks of health – through jobs, housing, our local environment and education and skills as well on communities most affected by health inequalities. This is directly improving the lives and health of people in some of the most disadvantaged communities across Great Britain. This annual review will give you a glimpse at some of the amazing work that has taken place in communities across England, Wales and Scotland over the last year. The stories show the importance of the work carried out by our funded partners and the impact they are having on people's health and wellbeing."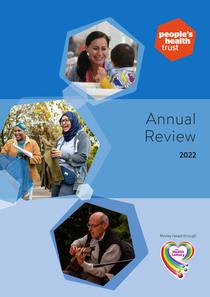 Download
Our Annual Review for the year 2021/2022 is now available, with stories demonstrating the impact our funded projects are having in communities across Great Britain.
Download