Simon Matthews runs Gwynfi Miners Community Hall, and their project funded by People's Health Trust. In a rural village far from other communities and services, Simon explains how this project is making life better for local residents.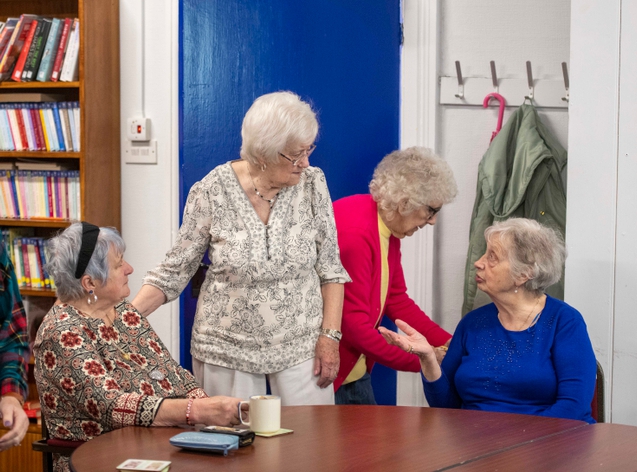 Afan Valley in South Wales is a small close knit community with about 1,300 residents. We've proven to be extremely resilient and very resourceful but we face lots of challenges due to how geographically isolated we are. We're around seven miles from the nearest town and children have to travel 12 miles to get to the nearest school.
Due to the lack of public transport we've identified a lot of need for people in the community. Isolation is a big issue as the only services provided by the local authority where people can meet is a basic library. Adverse weather conditions mean that children are sometimes unable to get to school at all, and older residents struggle to access GP and hospital appointments.
During the Covid-19 pandemic the community pulled together and through our community Centre we set up a befriending and shopping service for isolated residents. Our community centre also has a foodbank and a library where we delivered books to our most vulnerable residents during the Covid-19 lockdown.
Our village has high levels of deprivation and the Covid-19 pandemic and the cost of living crisis has meant even more people are struggling. Some people have been made redundant which has led to mental health issues like depression, and Covid-19 itself has increased anxiety amongst a lot of people.
Using the funding from People's Health Trust we've been able to put on more activities to bring people together and help improve people's mental and physical health. We've set up a 'Walk and Talk' group which has been really popular as it's outside so people have felt comfortable coming whilst the Covid-19 virus still poses a risk.
We've also set up a children's cinema because the nearest cinema is 12 miles away so otherwise people wouldn't get the chance to go and watch films. We have a Men's Shed, Walk & Talk Group, health & wellbeing classes and we have delivered activities like African drumming workshops and Dance.
The impact we have has been huge. Our community centre is predominantly funded by grants and donations so as a village we've put all these activities on ourselves. The Gwynfi Miners Community Hall is the only community Centre in the area and are a vital hub for activity in the village. Without the Gwynfi Miners Community Hall all of these services would be lost, consequently there would be worse mental health and more anti-social behaviour because there would be nothing for people to do.
It's a really hard job but it's also very rewarding. We've taken a burden off the NHS and helped changed people's lives at a time that has been difficult for everyone.
Subscribe
Join our email newsletter and stay up to date with our latest funding announcements and policy updates.