Project member Sheila speaks about moving to the Afan Valley, Wales and how the project made her feel less isolated following a cancer diagnosis.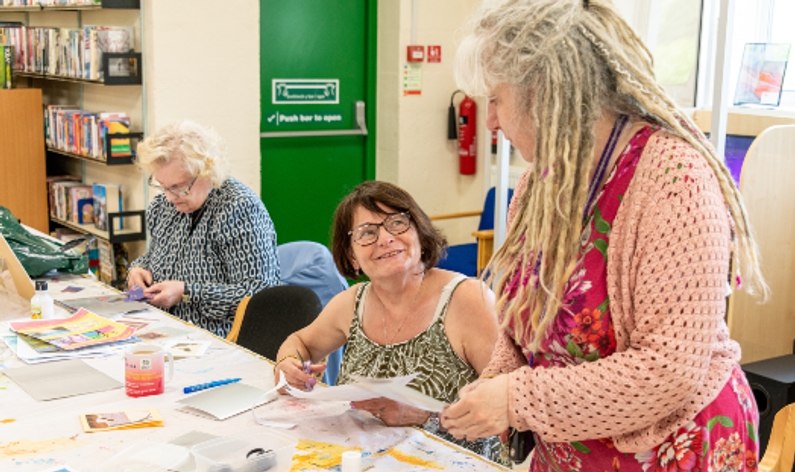 "It's been difficult since I moved to the Afan valley. I moved here for a fresh start once my kids had all moved out, but after eight months I was diagnosed with cancer and found myself travelling to chemotherapy sessions alone. I felt so isolated. The rest of my family are still in Kent and I have children and grandchildren in Norfolk too.
Everyone is incredibly friendly here but there aren't a lot of social spaces left. One morning when I was in recovery a neighbour told me about the art classes at Cymer Afan Community Library. I didn't know about the place until I attended my first art class; since then I've barely kept away. The library is the only real place we've got left in the valley, and the classes it puts on are something to look forward to.
The art classes are a lot of fun. Recently we've been keeping sketchbooks, but the art we do changes every month. We've worked with papier mâché and oil paints – all sorts – and the best of the work is hung up around the library. Occasionally works are sold, too.
I hadn't worked on art since school, but lots of people in the class have less experience than me and they have improved. I'd say I've clearly improved as well so it's obviously helping our art skills, but it's more about the social side, having a chat and a coffee. We all meet outside of the classes now as well so the library has really helped not just me but everyone's social life.
There are movie nights once a week with popcorn which are completely free and a lot of children come because it's a warm and friendly space. There are the knit and natter and yoga classes, too. There's a food cupboard available as well where people can access food for low or no cost which is increasingly relied on.
You're welcome at the library no matter what time of day and it means so much to my neighbours and me. It wouldn't be the same here without the library and all the sessions it puts on."
Subscribe
Join our email newsletter and stay up to date with our latest funding announcements and policy updates.