Lucy Njomo, Project Lead at the Needlecraft International Project, spoke to People's Health Trust ahead of International Women's Day 2022 to share more on why the new project is needed in the community.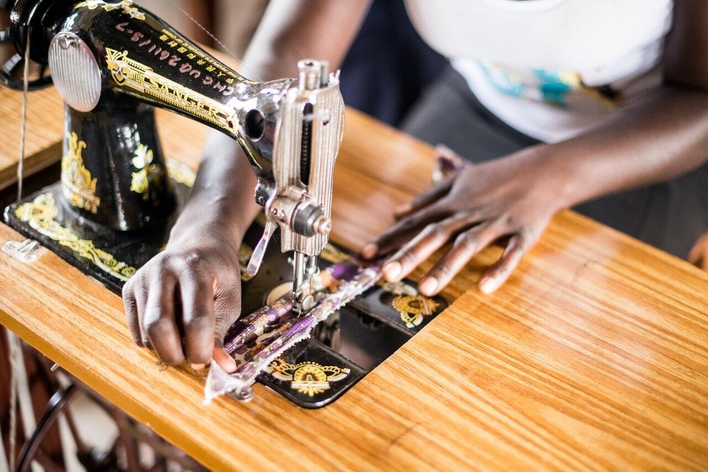 "The Needlecraft International Project will launch in March 2022 and we initially started it as a way to address intensive poverty in the community. The project is run by the African Youth Development Association in Croydon. From our ongoing projects we have brought together women in the community who are mainly from African migrant backgrounds.
Many of the women who access these projects are refugees, are unemployed, or have recently lost income due to the pandemic. During the lockdown we moved our projects online and in discussions the community came up with the idea to start a sewing project so they could learn a new skill that would help with the financial difficulties.
We've had a surprising amount of interest in the project but this funding will support up to 15 women. The participants have designed the structure of what they will be learning and they have chosen a well-qualified seamstress from the community to deliver the sessions.
The project participants face challenges finding employment. These can be language barriers, a lack of skills or education, low self-esteem, and cultural differences. I've been working here for 15 years and have seen how much of an impact the group can have on helping people understand local systems, grow in confidence and become more integrated in society.
The Covid-19 pandemic has been a huge set back though as people were unable to meet up in person. This has led to an increased sense of hopelessness and depression. Things are not the same as they were, people are coming out of the pandemic and they don't have a job, they have not been able to support their families financially or travel to bereavements, it makes it worse for them. That's why we are bringing people together to start building up their friends and relationships again.
The sewing workshops will help people learn a new skill that they can use to find employment, become self-employed, or to support their friends and family. Some of the women don't have money to go out or don't have money to buy new clothes so being able to have this skill to make something from fabric for themselves or their children will be a significant saving. We will also have a business advisor to come and talk to participants who want to take this further so they can have a direct or indirect income.
This project will also promote integration and cohesion in the community. It is a local point of contact, a meeting place. People are happy there is something that will be happening regularly to be able to have a support network to access and women from different backgrounds and cultures will be able to make friends and there will be greater community cohesion in the area they live."
About Needlecraft International Project
Needlecraft International Project is a one-year project working with African women and their families living in Croydon, London, mostly from west or central Africa, many of whom are refugees, supporting them to make their own clothes. Participants learn practical skills such as sewing and saving money and also share with others and make new friends. The project is delivered by African Youth Development Association and builds confidence and perseverance and supports the participants to develop a skill that they can teach others, and that allows them to produce items to sell or give as a gift. At the end of each session, participants share thoughts on the session and ideas for future activities. A steering group also meet monthly.
Subscribe
Join our email newsletter and stay up to date with our latest funding announcements and policy updates.