English For Action's Language for Change project supports migrants and refugees in Greenwich to learn English to help them advocate for issues in their community. Greenwich Project Lead Lucie tells us about their successful campaigns on healthcare and work.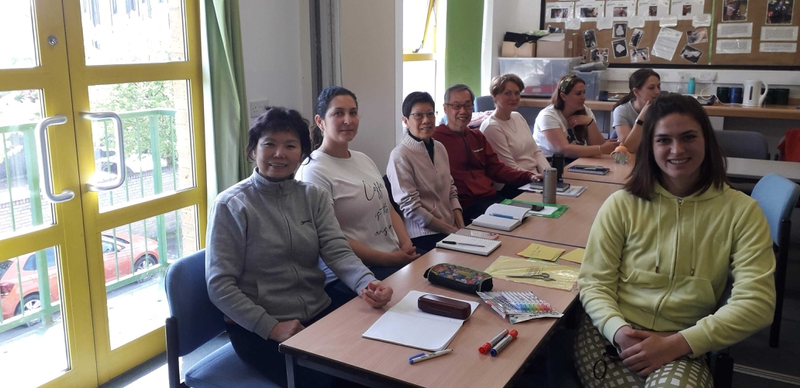 "The core of our work is providing free ESOL classes. We make these available for anyone who wants to attend and we try to make these as accessible as possible.
I started out volunteering in the ESOL classes and eventually became a teacher there. We have three weekly classes. One is a Conversation Club, which is an informal space for people to join in, have conversations and meet each other and everyone has different levels of spoken English. The others are English classes and one is a beginners' class because people at the early stages of learning English need their own space otherwise classes may move too fast and they may stop coming. The other is a mixed level class.
The classes are around half online and half in person for accessibility reasons. Our group is not solely for women but most of our participants are women, and most of them are mothers with small children. Some members in the past have told us they can only do face to face and not everybody has reliable access to internet, whereas for other members it's much easier to join online.
One very important thing the funding has allowed us to provide is a creche for our face to face ESOL classes. We have qualified creche workers who care for children while our participants learn. We always want children to be to be able to come to our classes and make it as practical as possible for our members who are mothers.
The other thing that we do is community organising, and bringing people together to change things that matter to our participants.
One of the big issues facing many migrants and refugees in the community is access to healthcare. Many people can't register with GP surgeries because they're asked to provide documents that aren't legally required and that they don't have anyway, such as passports. Sometimes the system for booking appointments is not easy or accessible and that prevents them from receiving healthcare.
This week, one of our members needed an urgent dental appointment. I tried to assist them by arranging the appointment myself but it is often complicated or there are no appointments available. For people whose first language is not English, it adds to the difficulty and people just give up. We have a Safe Surgeries campaign which is about making sure GP surgeries around Greenwich and London know the laws around registering patients and people's rights. Passports aren't required and we want GP staff to be better trained to interact with people with lower levels of English so that they can access the treatment they need.
"We go to a lot of places together, we are comfortable with one another and we trust one another. The group has totally changed my life."
Lian
Project member
We also run ESOL for Work which helps with things like CV writing and cover letter writing. Sometimes basic things around interviewing or the kinds of questions you should expect can be even more of a barrier when English is not your first language.
We have women in our class who are very well qualified but can't find work in their fields. For example, we have a midwife with 14 years' experience from Syria and I would say she one of the most motivated people I have ever seen learn English. She goes to every single class. Because she doesn't have the British qualification required for a midwife job, she has to learn English to a very high level and then she'll have to pass exams. So now she's volunteering in the hospital. She's taking those steps, but it's not an easy journey.
There are many cases of migrant or refugee women who are prevented from working in their field and are expected to work in low paid jobs instead, which they're over-qualified for.
Of course there are other barriers like flexible childcare that prevent members from working. Transport accessibility and affordability are issues as well: people can't physically get there and back to cleaning jobs or service jobs with late hours or multiple locations. There are also barriers around prejudice when English isn't your first language. Things like CVs and interviews become harder, and it's sometimes the case that cultural differences are a reason why people are rejected for jobs. We're always being asked questions about how to write cover letters or how to pass interviews. Everyone wants to hear stories about how people got past these barriers as well as what jobs are available. What courses or qualifications are required and how can I get support with paying for them? These are the questions we hear a lot and that's why we try to support our members with ESOL for work.
With women and mothers in the class one of the major challenges is to do with confidence, and which can be exacerbated by being on maternity leave, things like that.
Confidence is a massive, massive barrier - probably the biggest. We have highly qualified professionals and students whose English is at a high level. One member is a psychologist from Ukraine and they're really good at English, but they don't think they are good enough to get a job which stops them from trying, so the support they get from other people in the class is so important. But we try to provide as much support as we can, whether it's volunteering opportunities, wellbeing workshops to support with mental health and confidence, or helping them learn new skills. Ultimately, it's about showing them that they can do it and giving them the skills and confidence they need."
Subscribe
Join our email newsletter and stay up to date with our latest funding announcements and policy updates.