In Refugee Week 2022, Anna Richards, Founder of Maymessy CIC in Oxford, writes about their project which helps refugee women form connections and learn new skills. She also explores the barriers preventing participants from achieving their ambitions.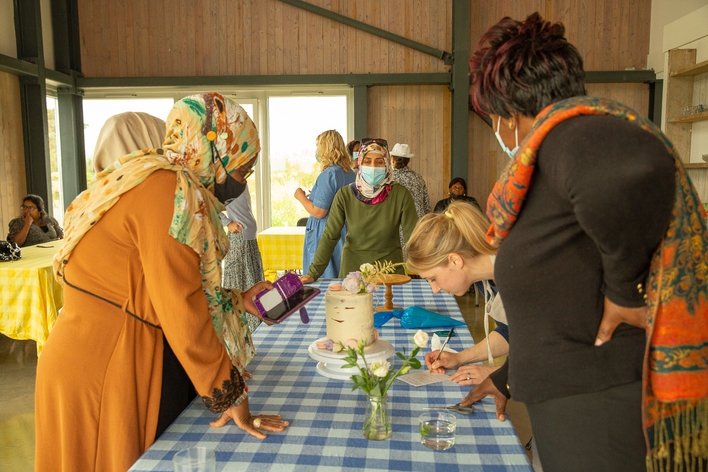 I run a cookery school where we do lots of projects with the community and support marginalised communities where we can. Coming from London, I really enjoyed being a teacher in a very multi-cultural area, but in Oxford I noticed there wasn't as many opportunities for sharing different cultures.

I reached out to a local project called Refugee Resource and one of the first things we did together was a cooking skills class at the local college. The students demonstrated how to make pizza and the women from the project made Eid cookies with them. We also set up a cultural picnic where everyone brought different foods and shared them around, we had about 96 people at that.
During the first Covid-19 lockdown I set up an online befriending programme with six women from Oxfordshire and six refugee women who live locally. They did a lot of cooking online together and were able to meet up in person a couple of times.
There are a lot of barriers preventing refugees from fully participating in their community, or finding jobs in the roles they have experience or interest in. Language barriers can be an issue, especially around filling in paperwork when doing courses, applying for funding, or signing up to services.
There's also issues with hate crime; one woman told me she had been abused on the bus by a teenager. When she came to the skill sharing project at the college with the teenage boys she said it has restored her faith in teenagers because they were lovely.
When working with the women they told me they really wanted to start their own food businesses, and so that's when I applied for the funding from People's Health Trust for a mentoring project. I've set up a business in the past and wanted to share what I knew, as well as get mentoring support from the community so they can start to build their businesses here.
We've been meeting once a month online or in person so the women can connect with each other and with people in the community. We visited another community cafe to see how it was run, and a farmers market, and we've also had guest speakers come to talk about setting up a business. We try to make it really practical so everyone can learn despite language issues.
You can already see the impact. The participants now have a clearer idea about the business they want to start and how to go about it. Their confidence has also developed hugely and by making connections in the community they're more able to go out independently and speak about their business with others.
It's a lovely two-way learning experience. We're able to learn about new cuisines, cultures, languages. The women are so creative, ambitious, and talented but unfortunately the amount of barriers mean they've not been able to start their businesses yet.
This Refugee Week I think it's important to share their journey and show their passion to the community. Despite language barriers or cultural differences, it's so important that everyone is accepted in the community and given the opportunity to thrive. From working with the women, I know that we will all benefit from this.
Anna Richards
Founder Maymessy CIC
Subscribe
Join our email newsletter and stay up to date with our latest funding announcements and policy updates.