Louise Roe, Centre Development Manager at Paston Farm, which runs Puddle Ducks - parents and tots group, reflects on the journey of delivering vital support to the community and adapting during lockdowns due to Covid-19.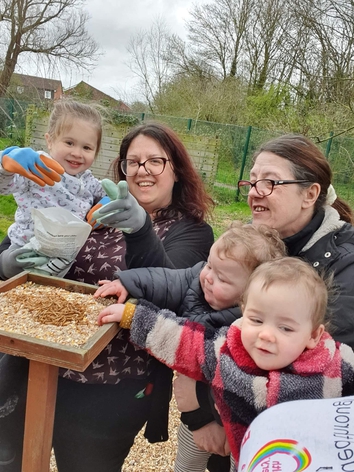 In 2018 People's Health Trust, kindly provided us with funding to run a tots group using money raised by Health Lottery East. This group would be held at our charity-run community centre by the mums in the local area, allowing them to have a voice in how it was run, increase their self-confidence, as well as provide them with a space for them and their children to build friendships.
I joined as Centre Manager halfway through this project and it was running well, although numbers had fallen slightly. We started to promote it online more and soon we were able to run it alongside other projects, such as British Science Week, when the children planted seeds, created art from nature, and fed the local birds and wildlife.
Then the Covid-19 pandemic happened. Our centre had to close, and we did not have the staff or volunteers to continue running the course online or send out art packs. People's Health Trust waited it out with us, supporting us all the way, especially when we started back with a whole new cohort of parents, childminders, and little ones!
To ensure we continued the original ethos of involving everyone in creating a space for themselves, we sat and chatted, got feedback, and put a request through to change our funding. We wanted more sensory and educational toys please, and boy did we get them!
We now have a wonderful stash of things we can use for various activities, and we can also adapt to suit any themes or ideas the adults have. It may be using our new art-station, that has wheels so we can use it outside in the summer and make the most of the weather. It might be using the musical instruments to have a sing song on the beanbags. It might even be some quiet time of using softer, sensory toys in our dark sensory tent. Whatever it is that is needed, we can do it.
Our funding has now ended, but our project hasn't. Now we have everything we need to continue, and those who attend often are happy to drop some pennies into our charity box to help things continue. Our volunteers have now taken over some of the management, freeing up paid staff, and have also found it an excellent way to hone their communication and planning skills when they're chatting and organising the following few weeks sessions. This means the project is now benefitting even more people.
Thanks to People's Health Trust, our grown-ups and children get to hang out in a space that's just for them, and it's so rewarding watching those newcomers, all shy and unsure, find their feet (and their mouths!), having fun and making friends.
Subscribe
Join our email newsletter and stay up to date with our latest funding announcements and policy updates.