Refugee Roots members come together to improve their wellbeing and social connections and to learn English. Mohammed*, an asylum seeker living in Long Eaton, speaks about how the project has helped him find a new family.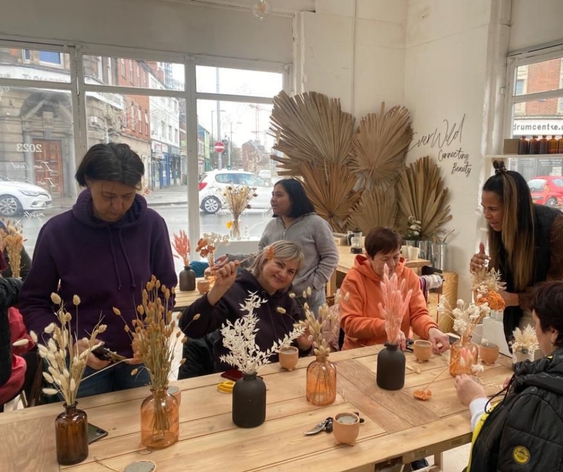 Refugee Roots bring together people seeking asylum and refugees living around Nottingham, Derbyshire and Long Eaton for English as a Second Language (ESOL) classes, community meals and arts activities.
"When I came to Long Eaton from Chad last September, I wanted a sim card to be able to access the internet to watch videos to learn English. I got one from another association, but the subscription ended after ten days and I heard from someone that I could go to Refugee Roots where I could get another sim card. Refugee Roots gave me a sim card which I'm still using. But it opened up the door to me for much more.
They said to me if I wanted to learn English, they had ESOL classes on Wednesdays and every week since January I've been to the classes. They provide us with lunch and after lunch the English classes begin.
When I came here I couldn't speak English, I was learning from scratch. I had done some English classes, but when I started coming to the Refugee Roots classes each week I've made big progress which has been very helpful.
Some people need English to help them get work or to access benefits, but we have a common experience of being new to the UK. Learning English is an easy thing to bring us together.
I arrived in Long Eaton in September and I've been in a hotel since [placed by the Home Office] which is in a difficult area to reach, and it can be difficult to get to other places. I volunteer in the area which helps me get access to things like cheaper travel. In order to travel to the Refugee Roots classes, which are in the middle of Nottingham, I'm helped by the £2 single journey bus scheme [a fare cap part of the Government's Help for Households scheme aimed at tackling the cost of living across the country].
Ukrainians hosted through Homes for Ukraine, Syrians hosted through the Syrian resettlement scheme and Afghans hosted through the Afghan resettlement scheme also come to classes, sometimes from quite far away or quite remote areas, too. The need has gone up because there are more refugees around the area.
There are special volunteers who cook and provide us with food. There are sessions where we cook together and make different things to eat together. There is the cooking group on Monday nights and I attend every time that I can because we have a good time together. We've eaten Sudanese food, Ukrainian food – everything. I'm not very good at cooking, but that doesn't matter because people help.
One Wednesday night after English class, we went to an event at the Playhouse where they hosted a Syrian night with a meal and dancing. There were eight or ten of us from the group and one teacher and we all went together. After the meal, we stayed for drinks like orange or apple juice, then we danced together. It was a wonderful night - the best night I've had since I've come to the UK.
We also go out to places like art galleries, the cinema, and before or after we go for lunch to get pizza or some other food. We had a picnic in the park a couple of weeks ago too, which was very nice. These trips help my confidence and it helps to practice English in different public places.

This is what is so important – connecting with other people and people from different organisations too, which helps confidence so much and builds opportunities.
Mohammed
Project member
At first I didn't know a lot of people and I've made a lot of friends going to the classes. The teachers especially, but also a lot of different people from different countries. Lots of different people come on different weeks and we always have a good time. We are friends inside the class and outside the class, too. The better I get in English and the more people I meet I feel much more confident.
I wanted to learn more English, so I asked if I could get extra classes and Refugee Roots put me in touch with another organisation's classes on Wednesday afternoon when Refugee Roots' class ends. This is what is so important – connecting with other people and people from different organisations too, which helps confidence so much and builds opportunities.
My family are still in Chad, I don't have any family here in the UK. My family now are the community in Long Eaton where I go to volunteer. My family are here in Refugee Roots, the teachers, the volunteers and the other people in the English classes.
I would like to say thank you to the staff, the volunteers and teachers who run Refugee Roots because without them I wouldn't be as good at English, I wouldn't have the tickets to go to galleries or the cinema, I wouldn't have a sim card and I wouldn't have met all the people that I have in Nottingham.
*Not his real name.
Subscribe
Join our email newsletter and stay up to date with our latest funding announcements and policy updates.