Project Manager Karen Orr explains the benefits of the RIG Arts project being resident-led, which is a central aspect of the Active Communities funding model.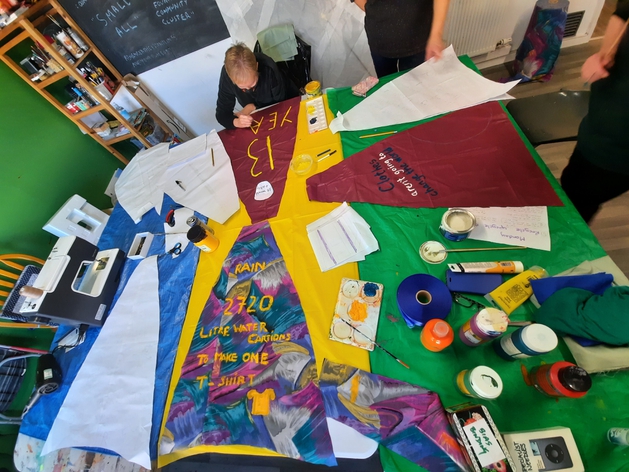 "We live in an area experiencing a high level of disadvantage. There is a lot of economic insecurity and some parts of the community we work with have a bad reputation for crime and anti-social behaviour. All of our creative decisions and activities are led by the participants which has helped us to break down barriers and negative reputations between communities.
Being resident-led also helps us be able to respond to the most immediate need of the community and utilise resources we already have. Our main work revolves around mental health, climate literacy and adaptation; we know with climate change it will be the marginalised communities that will be the most affected.
Our creative workshops are decided on by the participants and have been based around waste reduction which includes sewing, repair, reuse, upcycling, and sustainable crafts.
The project has also made nice physical differences in the community. We built a community garden which was described as a 'godsend' during Covid-19 because it was the only space where people in the high rise flats could come and sit down outside.
Participants and the community have become more resilient through supported engagement and regular social interaction. Our local area has a rich heritage and a lot to offer and it's really important that we showcase that. We use visual arts and music as a powerful tool to bring people together.
This focus on local community, heritage and being participant led has allowed us to achieve so much. From holding an annual event to showcase our work, to securing the use of a community art flat. There's still lots to do to break down more barriers but we are constantly growing and learning and responding to need."
Subscribe
Join our email newsletter and stay up to date with our latest funding announcements and policy updates.