During Covid-19, Toby Gorniak, Creative Director at Street Factory, shifted the group's activities to help its Plymouth community through the rise in mental health needs. He discusses the strain he and his staff were under to deliver this vital support.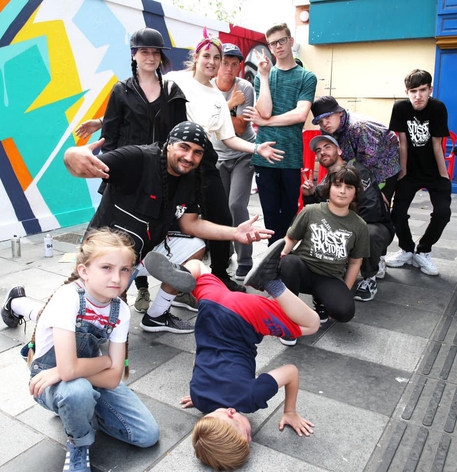 "None of us were prepared to Covid-19. It was difficult supporting people who were already struggling. We were helping people with declining mental health, those thinking about suicide, and people who were afraid they were going to die because of Covid. Mums and Dads were struggling in cramped flats with their children, and we had reports of domestic violence.
People were not sure of when they could leave their house and there was little communication between the police and the community which made people worry. When it was allowed, we would sometimes meet someone in the park and support them. We also delivered food parcels and books and games to families. We got some funding to give people laptops and tablets so they could get online for school and be connected with others. In households that didn't have Wi-Fi, we persuaded neighbours to share theirs. This was not the type of work we would usually do but felt this was needed.
We were dealing with high demand from people contemplating suicide, experiencing panic attacks and generally feeling trapped. As we usually support people through dance, music and rap so just talking rather than doing those activities was really different and difficult to get used to for many.
At the beginning of the pandemic there were just two of us delivering all the work – we felt we didn't have any choice to do this as the people we work with don't tend to reach out to the NHS or other mainstream services - they don't connect with them. We are the alternative to reach the people being missed. The workload was really big and it was very difficult for us. We literally worked seven days a week. We were on the phone or zoom or facetime all the time. It was constant. We also have children so trying to support them as well on top of everyone else was really hard. It was tough. We had each other but there was nobody to help us.
We now have more staff and we have started to build their confidence and resilience. We spend a month working with the new staff before they start working directly with people so they are prepared for the types of things they will be dealing with. We also decided to have people only working four days a week as we know the impact on staff of this type of work. In fact, we are about to launch a new project which will be three days a week as we recognise the toll it can take on staff. Nobody can give that level of support five days a week and not be affected – we're doing this to prevent burnout. We need to respect people who are doing this work.
Mainstream services were flooded before Covid, and it's got worse. We now we have people waiting for two to three years on waiting list. They need to work with organisations like ourselves who are alternatives and can support people with their mental health."
Subscribe
Join our email newsletter and stay up to date with our latest funding announcements and policy updates.