Support U youth group member Ash Skeet talks about her experience transitioning, and how the organisation's support groups have improved the mental health of the LGBTQ+ community in the Thames Valley.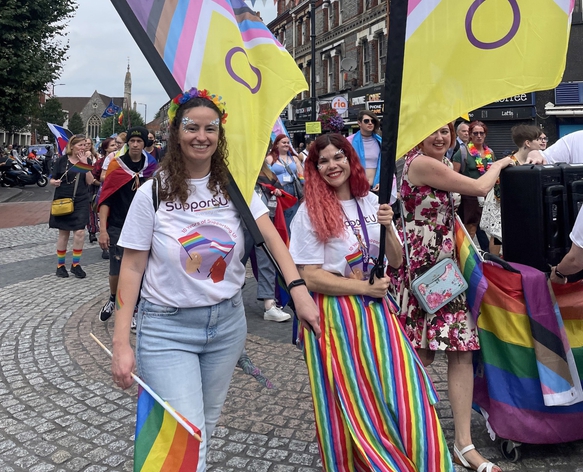 "Growing up, I didn't really know much of an LGBTQ+ community in Reading. There were a couple of people in my year who were Queer but there really wasn't much support, especially for trans people.

When I was about 14, I came out as trans and the sibling of a school friend said I should go to this group because they're very supportive.
I went along to a session with no idea what I'd find. I'd just come out. I hadn't really started transitioning much and I was very insecure in myself. I met this group of wonderful people and that changed everything. I would never have had the confidence to transition fully had I not met them.
The struggle with mental health is significant in almost everyone supported by Support U. Being able to share things and talk to people about problems and things that have caused grief with someone who has been through the same thing is so important.

The struggle with mental health is significant in almost everyone supported by Support U.
Ash Skeet
Youth group member
Support U provides counselling but what's just as important is the community we've created. A friend once texted our group chat at 3am to say they needed someone to talk to. They'd self-harmed and were thinking about suicide. I got on the group chat and told them I was here for them and to let me know what they needed. That person is still with us and I'm incredibly glad of that.
I have a history of self-harm, too, and by talking to people from the group I've been able to pull myself back from harming myself or doing something worse.
This might sound strange, but usually our Support U meetings are much more relaxed. We meet up to talk, share interests, play board games, just hang out. It's a place to meet fellow members of the community.
I'm at University now halfway up the country from Reading, but I still speak to everyone almost daily. We're friends for life at this point and I would trust these people with my life."

Subscribe
Join our email newsletter and stay up to date with our latest funding announcements and policy updates.