This project delivers weekly social meet ups and online support for new and expectant mums of all ages across St Helens in Merseyside. Activities include buggy walks, coffee meet-ups, text chat groups, private social media groups and celebration events.
Who
The project is lead by volunteers who are trained to design and lead activities. Volunteers and participants are new and expectant mothers of all ages from St Helens area. It is hosted by Diverse Active.
What
Weekly activities such as buggy walks, coffee meet-ups, and online groups to help new and expectant mums form friendships.
Where
St Helens, Merseyside
When
2021-2023
The aim is to bring new and expectant mothers together to connect, share experiences, provide support and reassurance, develop friendships and improve mental wellbeing. Becoming a mum is a new and challenging experience and it can bring with it increased isolation and emotional wellbeing challenges.
Volunteers are trained to lead and shape the future development of the project thereby creating a sustainable impact and using their experience of being mums to deliver a supportive environment for all involved.
Mums SOCIAL launched seven weeks into the first UK lockdown in response to the Covid-19 pandemic, which brought its own set of challenges for new and expectant mums. When people were unable to meet physically, participants started social media groups and Whatsapp groups to stay in touch and offer support to others about insecurities they had.
The group also hosted Zoom activities and Facebook live chats which they have received positive feedback on including some participants finding them 'a lifeline' under the challenging circumstances.
For some mums, the meet ups was the only time they socialised with others and that consistent contact enabled them to build friendships and feel more confident in their new role as a mum.
Jen
Project Activator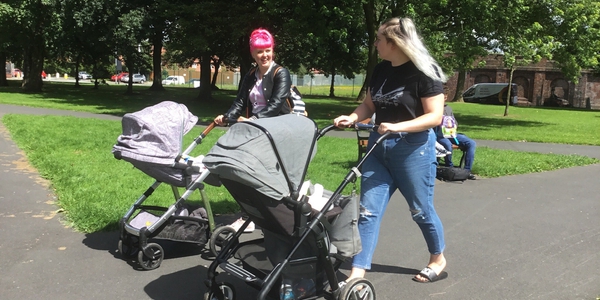 Funded by People's Health Trust using money raised by Health Lottery North West