Organised by The Eloquent Fold, the project supports isolated women aged 50+ in Corby, Northamptonshire through arts and crafts.
Who
The project supports women aged 50+ affected by isolation, and is run by arts organisation The Eloquent Fold
What
Fortnightly arts and crafts sessions
Where
Corby, Northamptonshire
When
2022-2024
Pebble in my Pocket supports isolated women aged 50+ to meet up to socialise and for arts and crafts sessions in Corby
The group is made up of local women and aims to reduce levels of isolation and create a community. Sessions include meeting in a local café with refreshments provided free of charge, followed by arts and crafts in a library. These focus on textile and print-making techniques as well as sewing, knitting, crochet and other crafts. Members have their work exhibited for public view in the library.
Many of the members have experience of chronic illness, mental health problems or other health issues that have caused them to become isolated from the wider community. Through fortnightly sessions, the members have built up a network of friends that's helped improve mental health and the environment is welcoming for new members too.
Projects like this are essential for people like myself to keep our sanity, keep us moving and to keep us excited about doing new things.
Janie Incles
Project member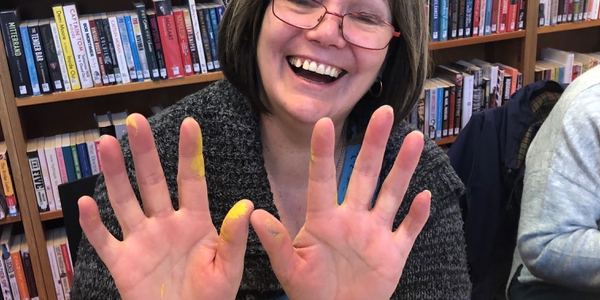 Funded by People's Health Trust using money raised by Health Lottery East Midlands