Regular and culturally appropriate meetings and activities for black people from diverse backgrounds in Sunderland and South Tyneside. The meetings are held at a fully accessible venue and provide a range of activities including employment support.
Who
Members decided that investing in a centre for people to form social connections and learn new skills would be the most beneficial to the African Caribbean community in Sunderland.
What
A community centre providing activities such as reading, cooking, playing table tennis, darts, pool and basketball. They also offer one to one computer training sessions for unemployed people.
Where
Sunderland and South Tyneside
When
2020-2022
This project, provided by African Caribbean Community Association, supports members to increase their employability through one-to-one peer support where people can learn digital and computer skills, how to apply for jobs online and how to prepare for an interview. They also offer a lot of volunteering opportunities and provide references based on the skills they've learnt.
Boosting skills is important but the main way the project supports people into work is by boosting their confidence. Through volunteering participants get the opportunity to work in a group and learn from each other which boosts morale. This boosts participants' confidence in an interview or in a workplace.
Participants are mainly from black African descent and many have experienced discrimination in the workplace or when applying for jobs. This can knock confidence and give you a defeated mindset. Here they can build themselves up amongst peers so they are ready to prove themselves in an interview. The project has supported people back into work, to be more active volunteers, and participants offer support to their peers.
When you experience discrimination in your job search and are out of work it has a negative impact on your mental health. We help people rebuild their confidence and take this positivity into job interviews.
Lucky Pemu
Project Worker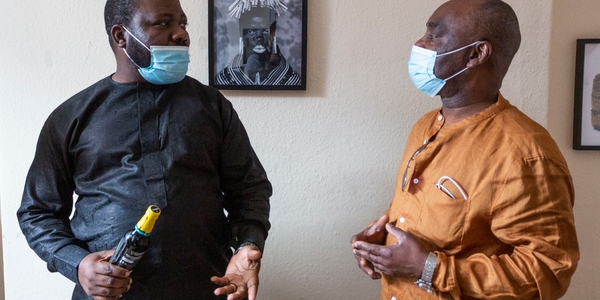 Funded by People's Health Trust using money raised by Health Lottery North East and Cumbria