This two-year project provides a platform for adults from Folkestone and Hythe with multiple disabilities, including learning disabilities, autism, and sensory impairments, to access performing arts workshops.
Who
The project is run by local creatives and is aimed at people with physical disabilities, leaning difficulties, sensory impairment and neurodiversity.
What
Accessible creative workshops which tackle usual barriers to community participation in arts.
Where
Folkestone, Kent
When
2021-2023
Members come together to tackle isolation and build self-esteem and wellbeing. The project aims to tackle the inadequate representation of people with disabilities in the performing arts, showcase member's creative abilities and have a positive impact in the wider community by challenging perceptions and showing what people with disabilities can do.
Furthermore, due to their proximity to Folkestone's creative quarter and active participation with local residents, links have been built both between project participants and with the wider creative community in the area.
Budget cuts to local services for disabled people and cuts specifically targeted at the arts sector mean that without Touchbase Care, many disabled people would be unable to get involved in the community's creative side.
Activities are delivered both online and in-person in Folkestone and offer members fun, engaging and creative workshops and the opportunity to work together to produce two annual public performances, co-produced by the group and showcasing skills developed from the project.
Without the project there would be a huge amount of isolation. The people we support were isolated before Covid-19 because of accessibility barriers, financial barriers, lack of transport and more. The withdrawal of services for disabled people and being locked down has been detrimental to people's health and wellbeing.
Holly Smith
Project Lead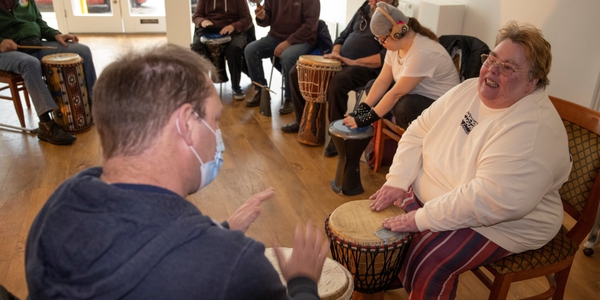 Funded by People's Health Trust using money raised through Health Lottery London East