Arty-Folks is more than an art group, it's a community. Laura Wilde, project member and volunteer, explains more about the peer-empowerment group and its impact.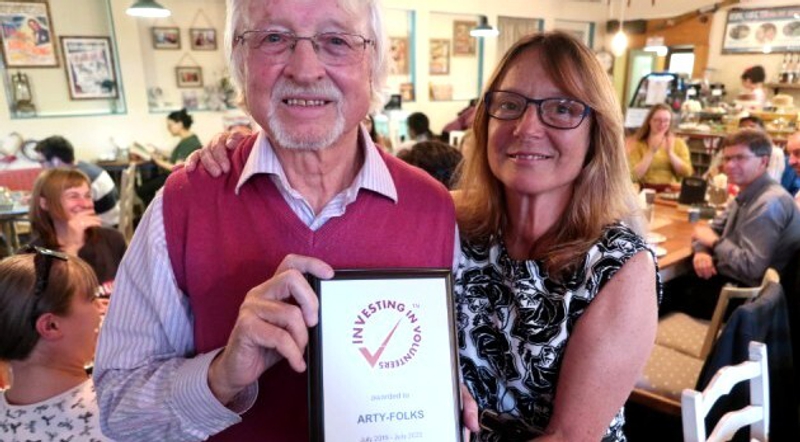 "Arty-Folks is more than an art group; we are a community who support each other. Being involved with the project helped me to get through a very difficult time in my life when I was struggling with my mental health. Making artwork enabled me to connect with others in the group with similar experiences and to better understand my emotions. It has given me a sense of purpose, building my confidence and social skills.
In the sessions, we usually work on short creative projects, which are chosen by us and last for around four weeks. Mediums vary according to the project and theme – this adds an element of mystery and excitement.
A recent creative project we did was a collective visual journal called the 'Quest Book'. It was a therapeutic, yet challenging project, encouraging self-reflection and the rediscovery of positive characteristics.
We also have regular mentoring sessions with project staff, which helps staff find out what is going on in our lives and for us to determine together the next steps on our pathway to recovery. Personal goals might include becoming a volunteer, gaining a qualification or finding a job.
I am now a volunteer at Arty-Folks, which has enabled me to give back to the project and those who supported me during my time of need. It's great to be involved in this way.
My favourite part of the volunteer role is seeing the project's impact on others. People are often shy and nervous when they first join. As members get to know their peers better, they become more outgoing and their artwork progresses. Some project members are hoping to apply for an art foundation course at a local university this year."
Subscribe
Join our email newsletter and stay up to date with our latest funding announcements and policy updates.