Local women from low income and Black and minority ethnic backgrounds living in Knowle and Brislington area of Bristol connect with nature through organised outdoor activities such as nature walks, mindfulness, outdoor yoga and wild swimming in this project.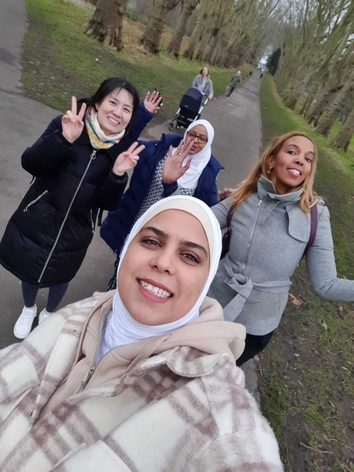 A peer mentoring model has helped develop participants into leaders. The first four 'Walk Leaders' describe their journey to becoming more confident and learning new skills.

Eman
I am six months pregnant and have never done any kind of activity like this before. I learned to swim with the Bristol Active Women project which has helped with my pregnancy. Now I'm excited to inspire other women in my community to get active and get out walking with me. So far as a Walk Leader, I have been able to support one woman who was very isolated and was struggling with a controlling husband. The walks have given her time to connect with other women and I have been signposting her to agencies who can support her and the children. The walks have been a lifeline for her, and she feels she finally has friends she can rely on.
Soumia
I came to the UK three years ago and have thrown myself into volunteering with Bristol Active Women. I've been motivating the mums at my local school to come walking with me every week. I lead the most ethnically diverse group. Most of the mums are also relatively new to the UK and I have been able to help support them with integrating into life in the UK and helping them learn English.
Sahar
I am a mum of four and I've been very active within the Sudanese community but hadn't had the opportunity to work or be involved with wider community projects. This project has taken me out of my comfort zone and I am loving challenging myself and supporting a wider group of women. My walking group is the largest and we organise regular walks with 10 women each week. The project has been helping me to develop my confidence and gain new skills. I have never done any physical activity before and because of the walking programme I am now learning to swim too, and finding new places to go in Bristol. As well as the walking group I've been helping the Community Activity Manager, Wafa with the workshops, which are based around topics that the women would like to discuss or provide new information on. The latest is self-care and stress management.
Oumaima
I have been in the UK for many years and am already very active in the community. I have really helped the other Walk Leaders with ideas for routes and how to support the women. I have learned to swim with Sahar and I am enjoying the challenge of learning something new. For the women I regularly walk with that is the only time for themselves that they have each week.
Subscribe
Join our email newsletter and stay up to date with our latest funding announcements and policy updates.