Mary Parry, founder of MyBUS, talks about isolation among older people in Leven, Fife, and how the project is supporting social connections by providing transport and arranging activities and outings for its members.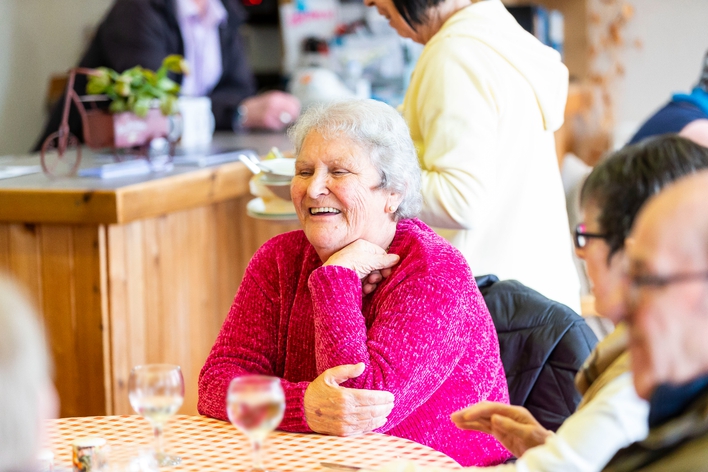 In smaller places like Leven it's hard to get around without a car, especially for older people, and finding connections for buses or transport that runs regularly is even more difficult. It's ok having your bus pass, but if you're not very mobile it's difficult to actually access transport. So we started in 2009 as community transport, but we realised people needed somewhere to go as well as transport.
We decided to provide local people with somewhere to go and things to do. We provide a lunch club where people come for three courses and to talk to one another, we help people go shopping, we go on trips in the summer and we go to see pantomimes at Christmas. There's a bowling with wheelchair accessible borders we can go to, and a garden where we can plant and grow things. We've also got group support sessions some evenings where members can come and talk to one another about whatever's on their minds.
We've been told that there's no other service like ours that provides lunches, shopping and transport.
Sometimes it's really difficult because people feel quite withdrawn and uncomfortable about joining a group because of the stigma around getting older or because they think they'll feel awkward. It takes two or three visits to actually get into it. We always say that if someone comes in a second time, then it' a win.
If someone feels uncomfortable, we don't mind chatting with them to open them up, or leaving them alone so they can adapt to the group at their own pace. We can offer them shopping as well, or one of our trips or whatever, just to try and break barriers with them.
"The effect on people is massive, and it really helps to build the community amongst members. People that come for the lunch club support each other."
Mary Parry
MyBUS Founder
But the effect on people is massive, and it really helps to build the community amongst members. People that come for the lunch club support each other, so they'll notice if their friends are off their food. They all look out for each other. One of our members, Rab, lives on his own and can cook for himself but he enjoys coming to the groups for the company. Like so many of our members, our driver Mark helps Rab on and off the bus so he's supported the whole way. He tells us it's something to look forward to - that's what we try to provide for everyone.
If you speak to Mark, our driver, he says the atmosphere on the bus on the way to sessions is electric. For some people, it's the only time they get out of the house all week so they're so happy to be there. There's such a buzz amongst members. They don't get to see anybody else all week.
A lot of the people don't cook, and if they can't come in we'll take meals to them. They might only have a microwave, and the cost of cooking for one person is expensive, especially over the last year with bills.
One of the ladies who should have come in for lunch today is not feeling well, so we'll take a lunch out to her and check there's nothing wrong. Her favourite is apple crumble, so we take her one and see if there's anything going on and if we can support her in some way. Social workers have said that it gives people a connection in the community. It's not just a case of only helping people when they're in here, we're a community and we all look out for each other.
Subscribe
Join our email newsletter and stay up to date with our latest funding announcements and policy updates.