Project lead Mandy Mangold talks to us about how SNaP Youth Service supports young people taking the step from primary to secondary school and why it's so important for their mental health to have a place to come as they gain more independence.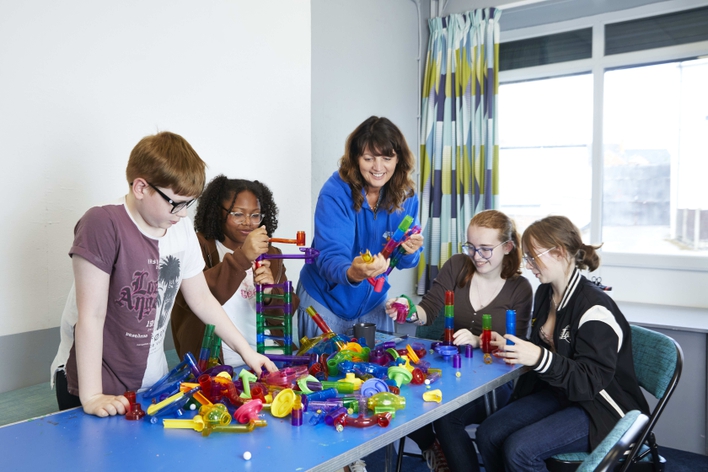 "We started the organisation in 2004, developing and delivering programmes that meet the needs of young people, so for example if they need to learn about healthy eating, or they're struggling relationships we'll tailor activities to them.
We work with year sixes mainly. We've noticed in September when kids move from primary to secondary school parents will allow them to walk home on their own and they get their independence. This can lead to anxiety or mental health problems for young people. So we started going into primary schools and working with the most vulnerable young people, inviting them to the youth club on a Monday night, from year six to year eight, so they get to meet some of their peers who they'll be with in secondary school and so they feel more comfortable.
We deliver two youth club sessions and two after school club sessions. We call it the Challenge Club, so if young people don't like sports or chess it offers them something different, like making breakfast for their mums or a cottage pie.
The group have bags of energy and they can be quite challenging. Some young people have additional needs, but once we get to know them we talk about their interests and find out how to support them. Hormones are kicking about at this age, so we're focusing on listening skills that allow them to complete a task.
We have one member, Tia, who's ten years old with four siblings including a seven-month-old sister. She lives in a very busy house and needed some time outside of that to enjoy on her own. She comes to after-school club on trips to Chatsworth, for walks, for picnics, and it's really helped her learn new things. She's become more confident talking to new people, too.
Another member, Maisie, who joined at primary school and stayed with us while she's at secondary school, loves the atmosphere at the club. She says it feels like a family. Every Tuesday we do a tea break where we have group members talk about ourselves and she's gotten more confident at that, so when she goes to school she finds it easier to stand up in front of the class."
Another lad was very quiet and he's just started asking questions and chatting more. Over time, we learned that he has issues with eating, so when we were making a healthy sandwich he just froze and couldn't talk or engage. Once he talked about it, we could ask his teachers about what support he needs."
We have a very different relationship with them to their teachers and we never tell them what to do. Youth work is all about voluntary engagement of young people, helping them to learn about themselves and their community so they can make informed choices."
Subscribe
Join our email newsletter and stay up to date with our latest funding announcements and policy updates.