New life expectancy figures from the Scottish Government reveal that people born between 2015 and 2017 can expect to die younger than those born a few years before them.
In this blog, Joel Llewellyn, the Trust's Evaluation and Learning Officer, explores the data and the wider context of health inequality.
Increases in life expectancy were the norm for decades in Western Europe. In 2011, life expectancy in Great Britain was almost double what it was in 1841, when records began. This is due to great advances in supporting childbirth as well as immunisation, a deeper understanding of nutrition, and far stronger laws protecting men and women in the workplace.
Life expectancy continued to increase at pace for many decades, until suddenly levelling off and flatlining from 2011-12. This process was swifter in Scotland than the other nations of the United Kingdom.
Last year was the first time that male life expectancy in Scotland fell – and this year it fell further. For women, life expectancy fell this year too - for the first time in recorded history.
In addition to falling life expectancy, the vast health inequalities that exist in Scotland today are exposed by this new data too. The graphs below show the average life expectancy and healthy life expectancy at birth for males and females, respectively, against the level of disadvantage of the area they live in.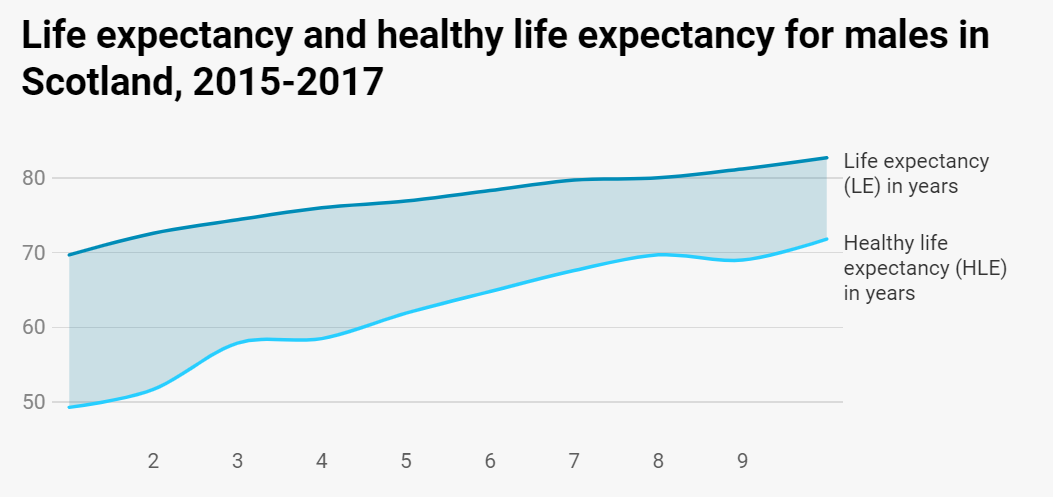 As the graph above shows, men living in the most disadvantaged neighbourhoods in Scotland can expect, on average, to live just 69.7 years. And only 49.3 years, just over two-thirds, will be spent in good health.
For those least disadvantaged, it is a different story. Their life expectancy, on average, is 82.7 years, and their healthy life expectancy is 71.8 years – longer than the life expectancy of the most disadvantaged.
That also means that, for Scottish men, there is a healthy life expectancy gap of 22.5 years, and a life expectancy gap of 13 years, based solely upon where in Scotland you live and how disadvantaged your neighbourhood is.
The data for female life expectancy and healthy life expectancy tells a similar story.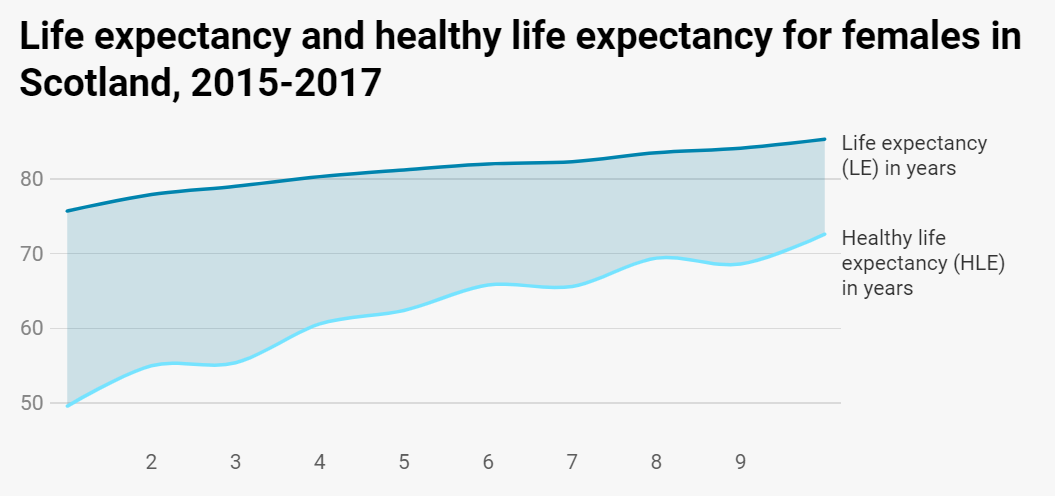 The data reveals that women born in the most disadvantaged neighbourhoods in Scotland can expect to live almost ten years less than those born in the least disadvantaged neighbourhoods.
Their average life expectancy, 75.7 years, is also made up of only 49.6 years of good health. This is just 65.5% of their lives – meaning women living in the most disadvantaged neighbourhoods are spending more than a third of their entire lives in poor health.
The data also shows that women living in the least disadvantaged neighbourhoods in Scotland can expect to live 23 more years in good health than women in the most disadvantaged areas.
These inequalities exist because of the social, economic, political and environmental circumstances we live in. They are unjust and they are avoidable. To tackle them, we need to shift focus from people's individual behaviour and look towards the wider realities people face: where they are born, the quality of housing and access to good schools and green spaces, the availability of good work and decent pay, and the strength of people's connections within their communities.
The Trust funds projects across Scotland that are tackling health inequalities. In Scotland, our Local Conversation programme is supported by anti-poverty charity Community Renewal. In response to the National Records of Scotland report, Community Renewal Trust's CEO, Paul McColgan, said: "The last decade has seen a steady erosion of services and life chances that support people's health, such as social security, affordable housing and fair and secure employment. We believe this is the strongest factor in contributing to the reversal of previous gains in life expectancy in Scotland.
"Community Renewal works with the Roma community in Glasgow, a population whose life expectancy is even lower than the average in deprived neighbourhoods in Scotland.
"Through the Local Conversation in Govanhill, we are working to ensure [the Roma community has] more equal access to welfare advice, decent housing and support to access fair work."
The Scottish government is working to address inequality through its Empowering Communities Programme, as well as the Social Inclusion and Poverty Reduction Strategic Intervention, which is part of the EU's European Social Fund (ESF) programme.[1]
Also, the Scottish First Minister, Nicola Sturgeon, last year launched a new vision for national wellbeing with a rigorous performance framework designed to ensure that these aspirations to reverse inequality are met.[2] This new data makes clear just how difficult a task that might be.
Read more about health inequalities in Great Britain.
Find out more about projects we have funded across Scotland
People's Health Trust funds Community Renewal to support three Local Conversations in Glasgow and Edinburgh, using money raised by Health Lottery Scotland.
To read more news from the Trust, click here.
Support us, play The Health Lottery!